Your Toy
We dust all of our toys with cornstarch to help preserve their surface texture in transit – and they come in heat-sealed bags so they stay in the best condition possible!
Your Storage Bag
We include a storage bag with EVERY toy, for free – to help keep it clean and safe.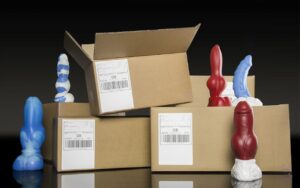 Discreet Shipping
All of our orders, domestic or international, are shipped in a plain brown box with as little identifying information as possible.
International orders will list all toys as "Silicone Sculpture" on any customs forms. There may also be a "Made in the UK" on the box somewhere. We are looking for this to be as discreet as possible while also making sure that all of the information that Custom Officials need is available so our international customers are not overcharged importing costs.